It can be hard, when moving into new digs to settle in until you make the space your own and put your own stamp on the décor. In this article we will take a look at some great decorating suggestions, but also cover some of the practicalities around decorating a student room.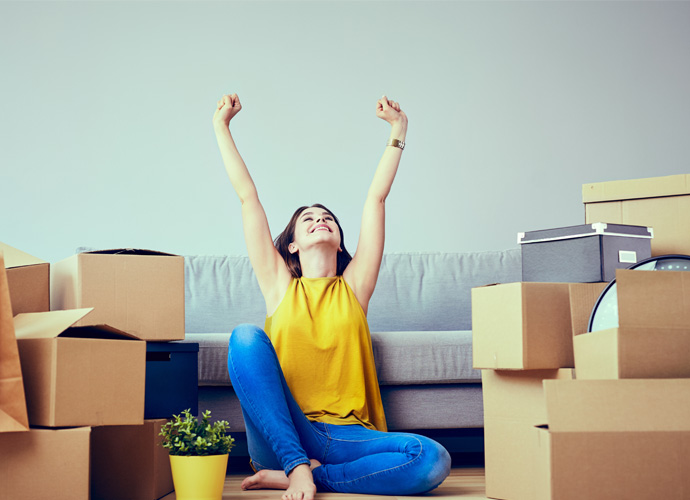 Check your tenancy agreement
The first thing to do is check your tenancy agreement. For the most part, decorating, i.e. painting your room will be allowed. Typically, this would contain a caveat if allowed that you would need to get written permission from the landlord and also put the space back to its original state at the end of the tenancy. Read your agreement carefully and make sure to comply with it or your landlord might withhold some of your deposit when you move out.
Can I hang stuff up?
Hanging items on walls of from ceilings can be a tricky area in a student let. Try to avoid using nails and screws to put up any posters or pictures. You will have to repair the holes and patching up the holes and matching the paint will be difficult. Try to avoid using Sellotape as well as this can strip paint from walls or tear wallpaper when removed. If possible, also avoid Blutack or equivalents. Although they are gentle on the surfaces to which they are applied, they can leave a greasy residue which is hard to deal with. Try using something like the 3M command strips. If applied and removed properly these should not leave any marks or cause damage to walls or surfaces.
So now that we have got that out of the way, how can you decorate your space effectively but on a budget?
Cosy Accessories
A very simple and cheap way to stamp your personality on your room is to invest in some accessories, like soft furnishings: bedding, blankets and cushions and pillows. These will add colour, patterns and also textures to your space. Places like Primark, B&M or even Wilko are great places to get nice colourful accessories to build your cosy nest.
Lighting
Most rooms will come with a ceiling light, but that can be a little cold and too bright at times. Invest in some smaller table lamps. These will tone down the light and add some moodiness to your room. Carrying on from the light theme, why not buy some fairy or string lights to drape around your room? This will add atmosphere and also some personality.
Personal Touches
Photos and art will definitely add that personal touch. Photos to remind you of family, friends and good times and artwork will express your personality perfectly.
If your room is quite small, then we would recommend adding a mirror like this great mirror from Ikea, this will reflect any natural light, creating a lighter feel but will also make the room look bigger giving a nice sense of space. Why not bring some of the outdoors inside by getting some houseplants. If you're not great at looking after plants get some succulents which don't need a lot of watering but look great all year round.
Scented candles if used safely and reed diffusers will have your room smelling much more fragrant and fresh.
Everyone has a different personality and no space is truly home until it reflects our personality. Feel free to express your personality in your room, how far you go with it is up to you and what is permitted in your tenancy agreement.