Easter is almost here, so it's time to start planning your menu! Whether you're celebrating with family, friends, or on your own, nothing quite sets the tone for a Bank holiday like delicious food. From sweet treats to savoury mains, Easter offers a range of culinary delights. In this article, we'll explore eggcellent (sorry – not sorry) Easter recipes, that will make this Easter one to remember!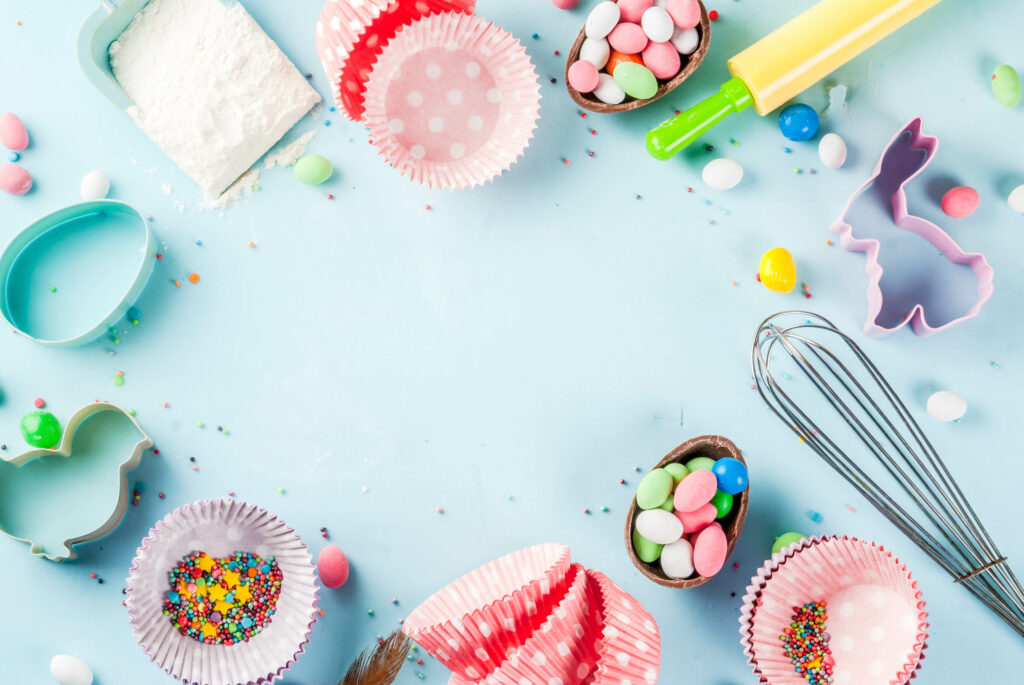 Easter Egg Cheesecake
Ok starting strong, we dive straight into desert with this scrumptious Easter egg recipe from BBC Good Food. This no-bake vanilla cheesecake can be made the night before and should take about 20 minutes to make. I think the BBC may have blundered though, as they talk about using up left over Easter eggs, does such a thing exist?
Salted Honey and Rosemary Lamb with Roasties and Rainbow Carrots
This recipe from Tescos had our mouths watering! Cooked all in one tray this almost effortless dinner is just perfect for an Easter Sunday get together. Be warned though, this dish takes 2 hours to cook and needs 20 mins resting time, add approx. 30 mins prep time to this makes the overall time to table the best part of 3 hours. Start cooking early so you can time dishing up right and of course the time in the oven is yours to mingle with family and friends.
Vegan Toad in the Hole
This colourful dish, a vegan version of Toad in the Hole from Veganuary.co.uk looks absolutely delicious. Once again using rainbow carrots and wedges of red onion to give a lovely splash of colour. We love the idea of adding Za'atar and turmeric to this traditional dish. Top tip: if you have a range of diets to cater for, make sure your vegans get their portion first, we think this dish will be popular with everyone!
Breakfast Tart
With a total cooking time of just 30 mins we have got a delicious Easter breakfast recipe for you! You will need:
Ingredients
Packet of puff pastry
6 eggs
2 cups of grated cheese
4 slices cooked bacon (streaky bacon is best for this recipe)
Pinch of salt
Freshly ground black pepper
Method
Step 1: Preheat oven to 200° or gas mark 6. Line a medium baking tray with greaseproof paper. Lay your puff pastry in the tray and pinch the seams together.
Step 2: Fold the edges of dough in to create a crust. Crack all 6 eggs onto the pastry and sprinkle with cheese. Place the cooked bacon on top and season all over with salt and pepper.
Step 3: Carefully transfer the baking sheet into the oven and bake until the crust is golden and the egg whites are set, this usually takes 10 to 15 minutes.
Step 4: Cut into squares and serve warm with serviettes!
Chocolate Hot Cross Buns
Jamie Oliver's chocolate take on the traditional hot cross bun sounds simply heavenly! Be warned though, this recipe is a labour of love but totally worth it! Jamie's recipe makes 12 of these delicious buns (I bet only 6x make it out of the kitchen!) and he rates the difficulty of this recipe as "Not too tricky". The total cooking time is 1 hour 15 minutes plus proving (which can take around 1.5 hours).
Gluten-Free Easter Cake
This choctastic, gluten-free Easter cake is described by Sainsbury's as: "super-moist chocolate sponge cake" and it certainly lives up to the hype. Decorated with chocolate buttercream and finished off with chocolate fingers and mini eggs, this is a super sweet treat! You will need a total time of 1 hour and 10 mins to make this delicious Easter treat and aforethought will be needed to be able to grab some gluten free chocolate fingers for the decoration.
Ginger & Miso-Glazed Salmon Noodles with Greens
Time for something a little less traditional, for those of us looking for something quick, tasty and a bit different this fabulous salmon and noodle recipe from Waitrose ticks all the boxes! Taking just 25 mins total time (yes that is prep and cook) from start to finish this microwave cooked meal is super tasty fast food!
Easter is a wonderful time to gather with friends and family to share delicious food. From a cheeky puff pastry breakfast tart and a traditional lamb roast to colourful Vegan toad in the hole and sweet treats like chocolate hot cross buns and gluten free cake, there are endless possibilities for creating a memorable Easter feast. Whether you're an experienced chef or a beginner in the kitchen, these Easter recipes are sure to impress your guests. So don't be afraid to experiment with new flavours and ingredients, and most importantly, have fun and enjoy the Easter Bank Holiday with those who matter most. Happy Easter!