In any university town there will be a plethora of students who are looking to rent accommodation over the period of their courses. The means that there is a buoyant rental market out there with plenty of demand, maximised income potential and longer lets of at least a year. There are. However, some things that need to be considered when looking at renting properties to students, especially if there are more than one in the property. In this guide we will look at some of the considerations a landlord will need to take into account when looking at renting to students.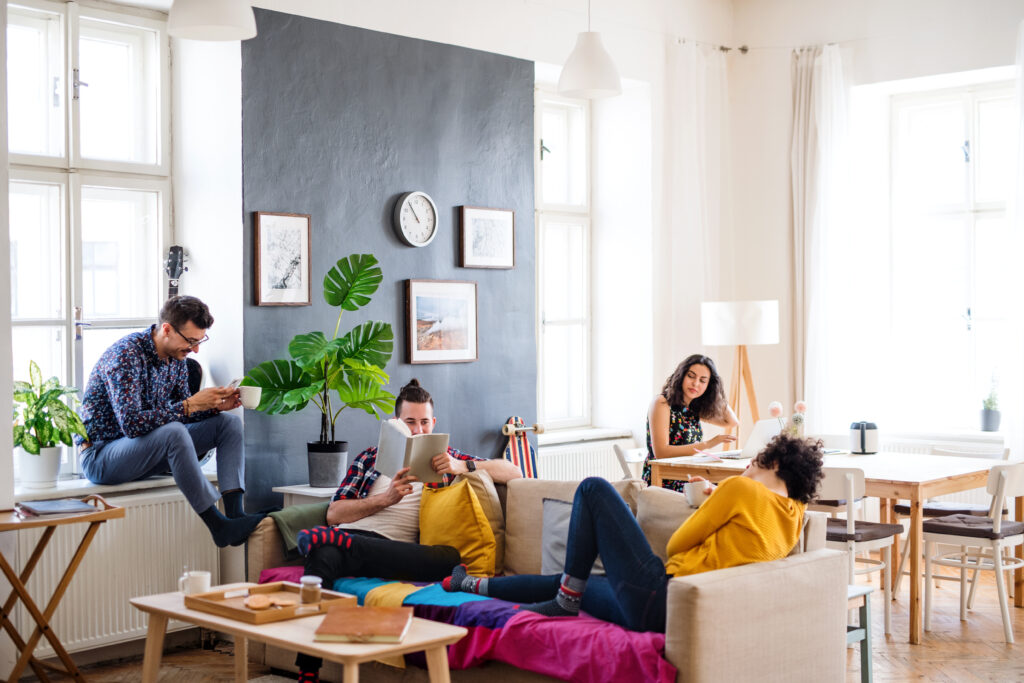 What type of property
The first thing is to get a property that works for students. Ideally it will need at least 3 bedrooms (this will help maximise income), have a large communal space at least 2 toilets and a decent sized kitchen. Clearly if there are 3 students in the property cramming them into a small living room and a tiny kitchen won't work. Ideally the property will be within reasonable walking distance of the nearest university.
Furnishings
Most students won't have their own furniture and as such a good student property will come furnished with the following:
Washing machine
Fridge freezer
Cooker
Carpets/curtains/lampshades
Beds
Wardrobes
Desk and chair for each room
Sofa
Vacuum cleaner
Lawn mower
Bins
TV stand
Crockery/cutlery/pots and pans and drinkware
Guarantor
Students can be notoriously difficult to reference as they are so young, have limited financial and employment history and potentially no steady income. It would make sense to ask any students for a guarantor who will be jointly responsible for paying the rent.
Wear and Tear
Although modern students are more responsible and are more likely to look after your property, because there are several people residing in the property, wear and tear is likely to be higher. You will need to factor this into your financial budgets, as fixtures and fittings will need to be replaced more regularly.
Legislation
This is perhaps the hardest bit to understand. As each room is likely to be lived in separately to occupants who will have their own space but use communal areas, it is likely that the let would be considered as a home of multiple occupancy (HMO). HMO's carry their own rules and regulations which need to be considered.
An HMO is formed, according to the Government, when at least 3 tenants live there, forming more than 1 household and they share toilet, bathroom or kitchen facilities with other tenants The property is a large HMO if both of the following apply: at least 5 tenants live there, forming more than 1 household and they share toilet, bathroom or kitchen facilities with other tenants.
If an HMO is formed and there are 5 or more unrelated people in the property of 2 or more households then you will need to register with the local council and get a licence. A household is classed as either a single person or members of the same family who live together. In this case a couple who are living together are classed as family members. If all your tenants are unrelated each essentially forms a household.
There are, however, other rules that need to be followed (although different councils can have different rules);
The bedrooms must be a minimum size:

6.51 square metres for a person aged 10 or over

10.22 square metres for 2 people aged 10 or over

4.64 square metres for a child under 10 years old

Ceiling height cannot be below 1.5m

The landlord is responsible for making repairs to:

Basins, sinks, baths and toilets

Fixed heaters and water heaters

Communal areas where there are individual room agreements

Electrical inspections need to be carried out at least every 5 years
Gas safety checks need to be done every year
Smoke and carbon monoxide detectors (where required) are installed
The property cannot be overcrowded: there should be a separate room for sleeping for each couple, each single person over 21, and for every two young people aged over 10 years)
There are adequate cooking and washing facilities
Whilst there are some considerations to consider when looking at renting to students, it is a very attractive proposition. Not only will demand be high pretty much every year, yields can also be maximised by having several students in the property. It is important to invest in the right property and ensure that you have your licence if you need one.